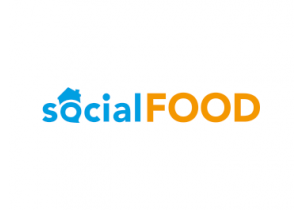 Description:
This was an idea of Prodigia which is based on the Collaborative Economy, in which people can socialize with strangers around a table and eating together for the same price as they would do at home. Their mission is to democratize the culinary skills of the chefs while bringing them closer to the guests sharing table and expenses. Their vision is to make a disruptive innovation in the food industry and the collaborative economy
Goals:
Naming: creation of company name and a corporate identity design.

It must convey the mission of the company and denote a strong entity
Results:
SocialFood is an original and differentiated name, easily readable and pronuncable. It refers to socializing and eating, with an identity of its own.

It constitutes a corporate identity with impressive visual and auditory retentiveness by the brain. The symbol is a "Globe / speech bubble" that represents the conversation that takes place around the table. The hat simulates a house where the food takes place.

The brand has an optimal visibility, even in tiny sizes for merchandising. The logo has a bright and visible color. which is also perfectly for its minimalism.

We have managed to create a brand of impact, quality, visibility and with a perfect square and balance.