MULTIPLY X6 THE TRAFFIC VIA LONG TAIL IN AN ECOMMERCE (SEO)

To increase the traffic (without paying) of search engines on a website, we can position the words for which the web is already indexed, or increase the number of words by which the website is indexed (Long Tail). Both things must be done, along with the corresponding SEO optimization. In this case we will see a real case of one of our Ecommerce customers, which went from 1,000 to 6,000 visits / month in just one week.
It is an online store that sells musical instruments. When their promoters visited us, they wanted to create a physical store in a city of 20,000 inhabitants (Cabra - Córdoba) and create a website. After the consultancy that was carried out, they came out with a different approach: we do not want physical store, and for 10 times less investment we are going to create a first level ecommerce to compete at a national level (at the moment). This is how www.TrinoMusic.com was born. An ecommerce implemented in Drupal (Ubercart)
After analyzing its European competitors, in addition to the ecommerces of Amazon, Ebay and Pixmania, among others, a visual site was designed with a focus on usability and user experience.
The content strategy was opposite to the sites of the sector that was in Spain until then. Instead of dedicating hundreds of hours to enter several hundred products manually, an import of 5,000 references was made, from 4 different suppliers. In this way, a site was launched that in 24h integrated 5,000 musical instruments.
With this approach, in a few months the site reached 1,000 monthly visits and a considerable sales figure.
Long Tail strategy. In the periodic monitoring and consultancy meetings, it was determined to continue with the integration of suppliers. Finally, an integration of 60,000 new references was possible. This integration multiplied by 11 the number of current references, so it had to increase traffic by long tail significantly.
On 9/16/2013 the import of the 60,000 references was made. Let's see the results:
Initially we check in the following graph how Google's robot goes from 6,500 urls indexed to more than 90,000.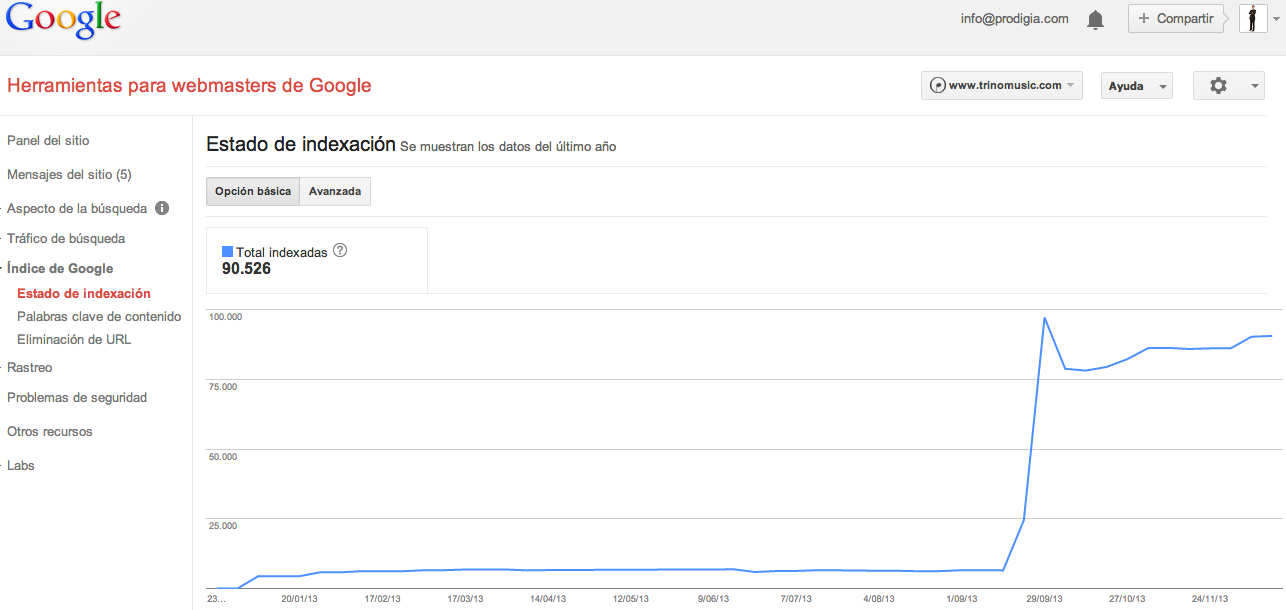 Since the Google robot indexes the urls, until they are positioned, only a week passed. In the following graph of G. Analytics we can check the positioning rhythm of the thousands of new keywords and how in just one week the traffic goes from 38 visits / day or 1,000 visits / month, to more than 200 visits (daily) or 6.000 visits / month, multiplying x6 in just one week.

Conclusion:
A "simple" way of competing in Ecommerce is increasing the supply of products via import of suppliers, managing to increase traffic via Long Tail, as well as upselling (increase of products in the shopping cart), since by having of more products, the probability increases that a user who enters the site searching for a product, adds another. In the following graph we see the monthly increase of 1,000 visits prior to import, to more than 6,000 visits sustained over time from the Long Tail strategy.

We hope you found the analysis interesting and we thank our friends at www.TrinoMusic.com for their authorization to publish data about the project.
Comments or suggestions are welcome.