DEFINITION OF COLLABORATIVE ECONOMY AND TRENDS

The Internet promotes and facilitates the so-called "collaborative economy", which is defined as the model by which two or more actors interact to share experiences or meet certain needs.
In Prodigia we extend this definition: What is the Collaborative Economy? Ángel Osuna Luque defines it as a paradigm based on 2 pillars:
To value the personal assets of the particular users.

A user rating system based on collective intelligence (created by the joint assessment of all users). It allows us to grant a level of trust to users even though we do not know them yet.
It also makes a classification in the Collaborative Economy:
- With profit: in it, users generate profit by valuing their assets. It would be the case of AirBnB or Uber, for example.
- No profit or Fair: is one in which users share expenses but do not generate profit. This is the case, for example, of Blablacar, CouchSurfing or SocialFood. Avoid legal problems by not creating unfair competition.
COLLABORATIVE ECONOMY
Surrounding analysis:
The 2014 opinion prepared by the European Union summarizes the following: "Collaborative consumption represents the advantageous complementation from the innovative, economic and ecological point of view of the economy of production by the economy of consumption. In addition, it is a solution to the economic and financial crisis. " In 2016 according to the EU, Spain is ranked number 5 among the Countries with the greatest potential in collaborative economy, thanks to the fact that 55% of Spaniards (according to Nielsen) would be willing to share or rent goods in a context of collaborative consumption .
Forbes states that the collaborative economy has grown by 25% in 2015, reaching 3,500 million dollars.
A study by PricewaterhouseCoopers shows that collaborative consumption will move around 300,000 million euros in 2025.
In Spain, Relendo points out (renting products among geographically close people), 53% of Spaniards would be willing to share their shopping basket, which makes us an especially attractive territory to carry out the collaborative model within the EU .
The collaborative economy companies with the highest number of users in Spain are:
Blablacar with 2.5M users.

Airbnb with 1.5M users.

WazyPark for parking search, with 500,000 users.

Amovens car rental between individuals and share transportation by car, with 500,000 users.

Couchsurfing to share a sofa or room, with 150,000 users.

In the US, according to Jeremiah Owyang, founder of Crowd Companies, "Participation in the collaborative economy has grown by 25% in the last year, with more than half of Americans now obtaining products and services from each other, as equals. , instead of buying them from established companies. "
The model is having the success it deserves due to the amount of values ​​it contributes, as well as the savings it entails. We are witnessing the birth of a new way of spending our money and, at the same time, of monetizing private assets by sharing expenses / amortization.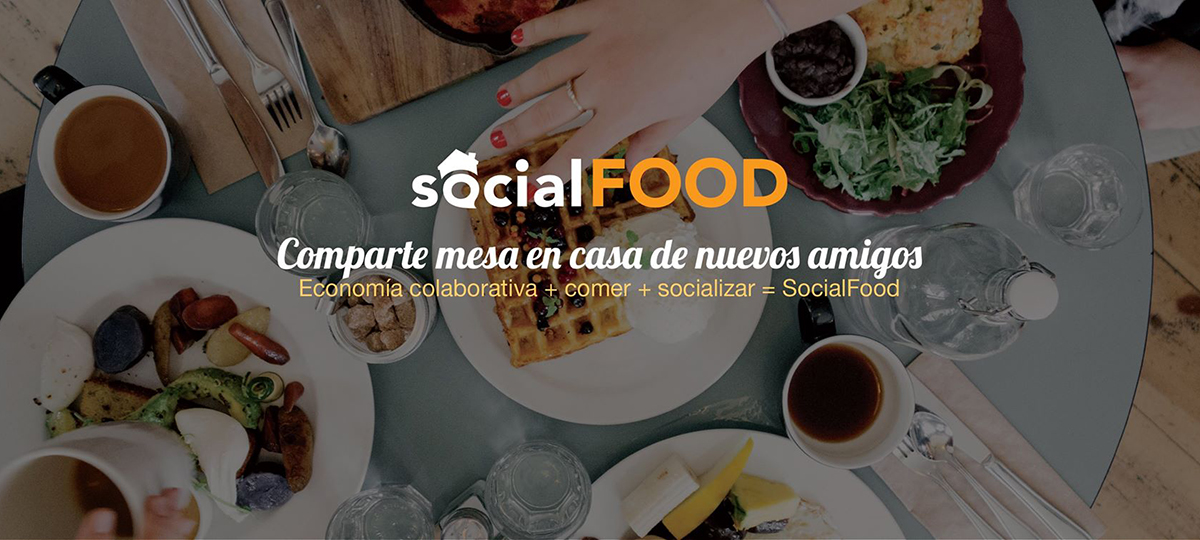 There is a before and after in consumption in some sectors. Users leave their fears behind thanks to a very well-defined assessment system that transmits great confidence, whether at the time of car or house sharing. And now, why not? A plate full of experiences as proposed by our SocialFood spin-off. This is the turn in the cuisine of Meal Sharing or Social Dining. Its origins could be found in the popular Couchsurfing, where travelers from all over the world come in contact with hosts who are delighted to receive visits to make a cultural exchange. This practice, in addition to housing travelers on the sofa or in a spare bed (free of charge), usually includes the preparation of typical dishes of the country to be visited (by the host), and thus, carry out a enriching cultural exchange
In this way we want to make food the center of gatherings and unforgettable evenings between people of different origins that otherwise would never have known, or between neighbors who know and socialize well. The operation is easy. It is enough to contact the so-called "Hosts or Chefs", people who register in the social network to share lunch, unforgettable dinners or brunches at home.
You can read our post about Meal Sharing and Social Dining.