COWORKING WITH SEVEN-DAY WEEKEND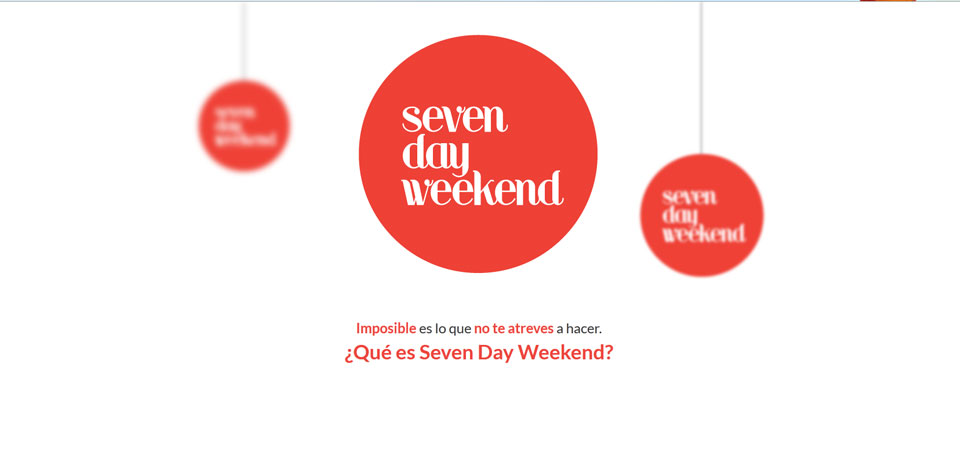 Coworking, a symbol of business model change
The business model as we know it is in constant evolution. The growing competitiveness or the increasing specialization of professionals are merely evidence of change.
If the appearance of freelance a few years ago, with the advantages and flexibilities that this new entrepreneur offers, have meant a radical change in the mentality of entrepreneurs, now what is gaining strength is coworking (or coworking).
This initiative that arises in the United States, and that in a short time has been extended and popularized in all corners of the planet, was born to meet the new business needs.
A new way of working, in which several professionals who do not have to dedicate themselves to the same sector or activity share a single working space.
Freelancers, freelancers, entrepreneurs and young entrepreneurs in the same space working on independent projects. However, coworking is not only a business optimization formula, but also implies belonging to a community in which collaboration, the generation of new ideas and the creation of synergies are fostered. A working model that promotes the exchange of contacts and the birth of new projects and business expectations.
The coworking centers move away from the typical offices and seek to be places brimming with motivation and inspiration. Spaces that provide multifunctional infrastructures and allow professionals to learn, renew and reinvent themselves.
Destined mainly to creative and innovative professional profiles, all sectors are likely to be part of this new business model. But undoubtedly, one of the sectors that is taking advantage of the advantages of this practice is advertising. In this way, more and more advertising agencies offer coworking services in their facilities.
The main cities of our country have specialized coworking centers, only the cities of Seville, Madrid or Barcelona concentrate more than 50% of these spaces. Centers with increasing notoriety in the business market, both nationally and internationally.
Village in Madrid, is a coworking space for professionals and communication companies. A place to work, learn and share. A large space for the co-worker and organized to maximize synergies. But also a place for seminars, conferences, talks, workshops, events and presentations.
Similar to this, we find The Partners Coworking, which has more than 500 square meters, the entire floor of a restored centennial building and which preserves the historical essence, seasoned with the most modern technology. A space that welcomes all kinds of professionals in the world of communication and marketing and born in a leading advertising agency in Andalusia, Avantine. Installed in one of the best areas of the city of Seville, on the Avda. De la Constitución in front of the Cathedral, it offers a specially organized space for collaborative work and the creation of synergies.
Another coworking center that is making its mark in the business world is CFD in Barcelona, ​​where we find ample spaces dedicated mainly to professionals belonging to the world of communication and advertising.
Experts say that coworking has not yet reached its maximum potential because not all entrepreneurs have managed to capture the true essence of what this method of work means. But they predict good times for this coworking methodology, since it has meant a brutal impulse for small and medium-sized companies, allowing to reduce costs and, at the same time, to professionalize their company by providing it with a common space, greatly helping the recovery of a system business very damaged by the economic crisis.
In Prodigia in our new office-Chalet in Malaga Este (Miraflores del Palo, C / Islas Canarias 19B) we have also opted for a stimulating environment, with Balinese beds, giant hammocks, pool, barbecue, and a plot of 800 m facing the sea . From here we have joined this stream of synergies in which freelancers or creative companies can join our passion: make madness a sane philosophy.
We call this the Seven-Day Weekend (7-day weekend) creating a stimulating and creative professional environment in which on Monday you are no less happy than Saturday and the weekend is only distinguished on a calendar.
We are crazy? and you? Join the Seven-Day Weekend challenge ...