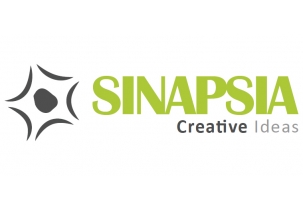 Description:
Private Equity Company, which performs Creative Lunches, whose mission is to position the figure of the entrepreneur. Web, and Social Media Plan also made by Prodigia.
Goals:
Naming It must evoke synergy, interrelation, effervescence of ideas, creativity.

Corporate identity.
Results:
Sinapsia, is a naming that refers to the neuronal synapse or communication process and interaction of neurons. In this way, it alludes to the brand personality attributes of the briefing, generating an optimal retentive in the brain.

Logo design with fresh colors, lime green, evoking creativity, ideas, innovation, freshness ...

A banner has been designed for the stands and creative lunches, of 1.80 x 0.80 meters, adaptation of the logo for catavinos, corporate cards, design of creativity for social networks, and design of the web site.