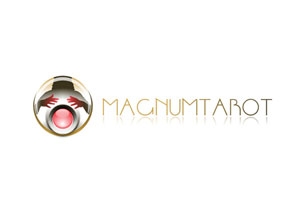 Description:
Tarot dedicated company, which provides this service in an original way through its website, through webcam in real time. With charging system by minutage through telephone connection or credit card.
Goals:
Naming

Professional and serious corporate identity.
Results:
Naming including the word "tarot" to favor its search engine positioning while explicitly reporting the activity.

Brand composed of symbol and logo.

Symbol: it is represented by the figure of a tarot player wrapped in a sphere. In turn, the tarot player imposes his reddened hands (energy) on a camera that represents the webcam.

Logo: composed of a typography of easy readability in capital letters.
The brand uses warm colors that inspire harmony and relaxation, as well as the fuchsia of the lens, less aggressive than red, which represents the harmonious and close energy.