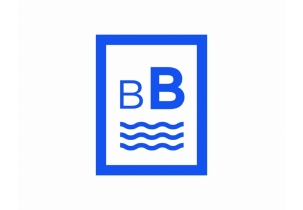 BenalmadenaBeach hotel located on the beachfront of the Costa del Sol.
Objectives:
To create a distinctive and distinctive visual identity.
Development:
It is an imagotype made up of symbols, representing the sea and space. The symbols are part of the naming "BB", the abbreviated textual part of BenalmadenaBeach. Under the text, the sea is represented as two waves and these two elements are grouped inside a rectangle; an iconic way of representing a space. So finally the logo itself reinforces the key points of the hotel: a space at the foot of the sea, in which you will feel it almost inside the room.
In the textual part we play with the differentiation of typographic weights to make more visual emphasis on the key word, BEACH.
Dark blue is used to transmit the values of the hotel, calm, elegance and security, completing the new identity.