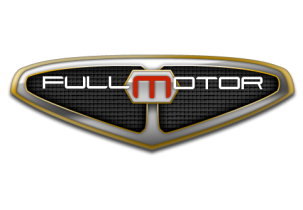 Description:
Company for the online sale of used vehicles.
Goals:
Naming

Corporate identity manual.
Results:
Naming: Fullmotor. Short name, easy to pronounce in Spanish and English, generic for all types of vehicles, and the .com domain is available.

Brand: The brand symbolizes and represents the front of a vehicle, simulating metal textures in gray, black and gold, where the logo is embedded in white letters with the letter "M" in the center in bright red.
As a shield, the brand created for Fullmotor represents the main ideas that you want to transmit: innovation, technology, confidence, guarantee ... It is a strong brand, with strength, that remembers and clearly becomes familiar with the automotive world.
The brand will be used in its original version in cuatrocomía. If this is not possible, the brand will be used in its ink versions and with the corporate colors proposed in the identity manual.
The corporate typography used for the brand will be called Xenotron, in any of its variants. For documents internally, web page and others, we will also use the so-called Triplex in its variants Bold and Light