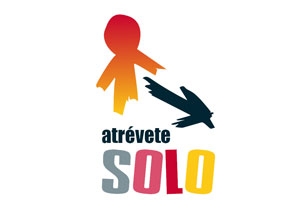 Description:
Singles travel tour operator in Spain. Creation and commercialisation of personalised tourist packages for Singles (people without a partner: singles, separated, divorced, widowed), both international and weekends in Spain. 
Objectives: Holistic marketing project for the business concept.
Naming: Create the brand name.
Brand design and corporate identity manual.
Offline and online marketing plan.
Creation of web+CMS with high visual impact.
Design and programming of CRM integrated with the site.
Travel management programming integrated with CRM and the site.
Development of SEO (Search Engine Optimisation) in Flash, to give visibility to the web project.
Creation of strategy and implementation of social networks (Facebook, Twitter, FourSquare and Youtube). Creation of creativities for Facebook, Twitter, Foursquare and Youtube. Facebook programming for the integration of the website's travels and its travel manager. Twitter follower growth strategy. FourSquare content creation strategy. Monthly meeting to interpret web analytics and social media strategies/objectives. 
Results: Project created from scratch using Brain Storming: Naming, corporate identity, guerrilla marketing, development of a complex site, customised online CRM integrated with the site, travel management and booking back-end... A project 3 years in the making, which is still alive and has been a successful test laboratory, becoming the leading company in the Spanish Social Networking sector.
Naming created in brainstorming from the Briefing and analysis of the brand's meanings.
Complete corporate identity manual including the applications of the brand.
Market research on the Single and Viajes Singles sector. Creation of a complete Offline and Online marketing plan. Design and execution of a guerrilla marketing campaign to publicise the brand and its concept and draw conclusions.
High visual impact website according to the identity manual, integrated with CMS and CRM, both customised.
Online and ubiquitous CRM implemented in the Cloud, which supports the design of tailor-made trips, on the optimal dates and with the most willing destinations for the daring ones (designated name for the company's clients).
Creation and integration in the cloud of a multi-user, ubiquitous travel management SW. Unification of data, ubiquitous real-time consultation, and integration with the site, displaying travel statistics in real time.
Hundreds of firmendly indexed urls in Google, with customised and optimised snippets based on market research and benchmarking. Annual long tail over 24.000 keywords, creation of canonical urls, robots file, sitemap.
22,000 Facebook fans in just one year, generating a 30% increase in sales. 6.000 Followers on Twitter in only 6 months. 33,000 in 18 months. More than 100 followers on FourSquare in the first month.