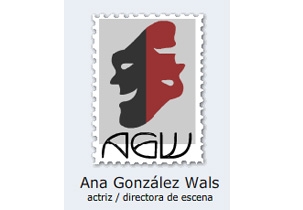 Description:
Ana González Wals, actress and stage director. Web also designed by Prodigia.
Goals:
Personal brand design
Results:
Artistic stamp design for the personal brand. Composed by symbol and logo.
Symbol: formed by the sad and cheerful faces of the theater, forming a postal stamp.

Logo: formed by the abbreviations of the name of the artist, and her full name with a simple and legible typography.

Brand: resulting in an original postage stamp in full-bodied colors, transmitting depth and personality.