POLITICAL AUDIT OF MÁLAGA IN TWITTER - FEBRUARY 2015
Who has greater influence?

Are your followers real?
Click to enlarge:

Objective:
Provide accurate information in the face of the upcoming elections on personal political brands on Twitter, for which an audit has been prepared that includes the influence of the politicians of Malaga, and the quality of their followers.
Methodology:
Accounts have been located through the Twitter search engine using the names of the political parties and Málaga. They have been ordered by number of followers, and the 20 accounts with the largest number of followers have been analyzed with the following tools. Several public tools are used and available for consultation by any Internet user, of which is attached under each of the 111 accounts analyzed, the rating they provide. These are:
Rate the followers in good, inactive and false or empty (suspicious), taking a sample of 100 followers. Its reliability is lower when taking a small and non-random sample.

Rate followers as false and good. Taking a random sample of 5,000 followers. It has more rigor than the previous application, being a larger and random sample.

Assign a ranking of 1 to 100 (with logarithmic scale) that measures the influence of an account in social networks. An account must have a relationship between its influence and the number of followers. If there is a large variation between the influence and the number of followers, it is because they do not interact with the account they follow. This is the behavior of robots or zombies followers (they do not interact: retweets, mentions ...) This does not mean that the followers are false, although it is highly probable, but they are also followers that do not interact (zombies)

 

It visualizes in a map and by means of graphs the location of the followers of any account, what allows in this case to diagnose if the followers are of countries or languages ​​different from those of the objective public of the account, which can be an indication of purchase of followers or count on zombie followers. We use this graph in the three accounts that have a high percentage of false followers, in the expanded report detailed a few lines below.
Conclusion:
The analyzes show data from some accounts that seem to have false followers, which is endorsed by the level of influence as the size of the account does not correspond to the influence value measured by Klout.
However, it could not be asserted that the account holders have bought or acquired followers in an illegitimate manner. It could have been a friend or "professional" who had provided the service, including a third party with the intention of damaging the reputation of the account. But, just as we take care of the personal brand in our hygiene, or the facade of our political headquarters if someone smears it, we must also take care of the health of our followers and clean our digital brand when Twitter is affected by false followers.
On the other hand, users usually do not distinguish between true and false followers, so have an inflated account with robot followers, distort the popularity of our account and distort the influence or entity of our digital brand. It is for this reason, that it has been intentionally, unintentionally, or by third parties, the increase of false followers, it is the responsibility of each personal brand to maintain reliable data on the number of followers, to be able to hire cleaning services of these robots, like the cleaning of our façade if it is stained or painted.
We hope that the data will help both the owners of the profiles to verify the health of their accounts and take the measures they deem appropriate, as well as the users to differentiate the real influence of each account and the veracity of the number of their followers.
Data source and ranking by number of followers.
1.@agarzon Alberto Garzón 301.381 IU
Economist and deputy in the Congress by @iumalaga. Social activist and defender of human rights. Author of 'The Third Republic' (Peninsula, 2014)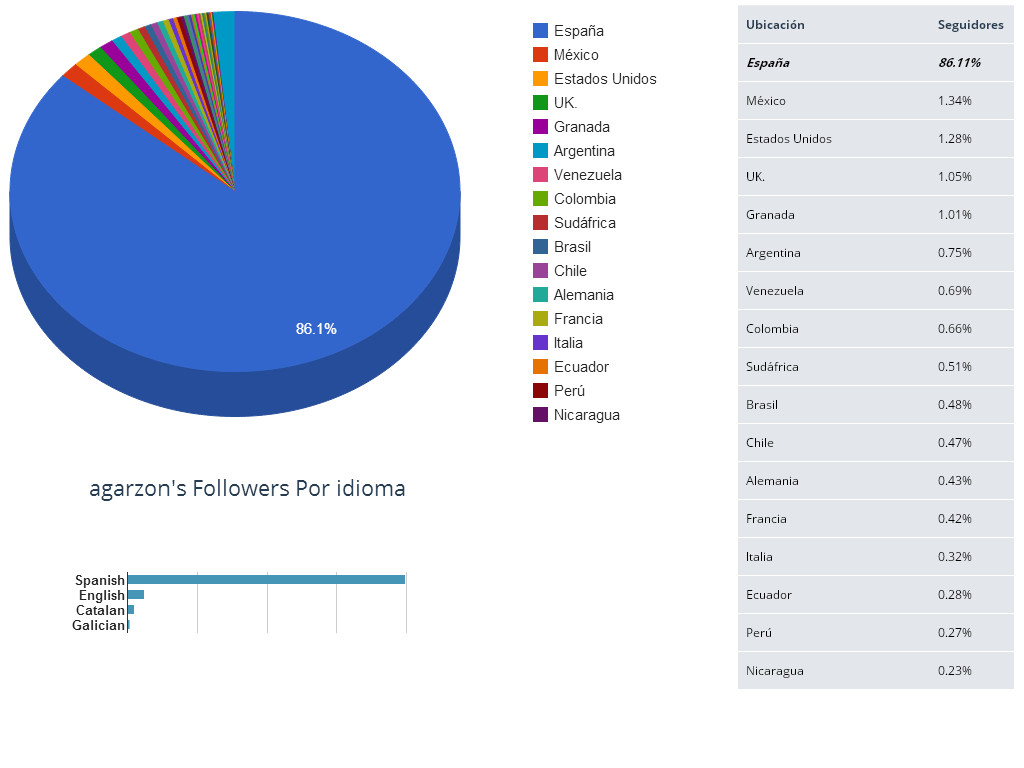 2. @checajavier Javier Checa 189,089 PA

Candidate for the Mayor of Malaga for the Andalusian Party. Andalusian, nonconformist. Militant LGTB


Time Line de Twitter.com/checajavier con 0 RTs y 0 Favoritos:


Interpretation of the data:
In this case the difference between the number of followers (189,089) and its influence Klout (56) is abysmal, which points to a highly probable acquisition of false followers. This die is endorsed by visiting the timeline of the Twitter account, in which we observe that most publications have zero interaction with their followers (zombies). In an account of this size it is very significant that the engagement or interaction of the users is nonexistent. This is the case of this more flagrant analysis of low influence on Twitter with such an excessive volume of followers, which is further corroborated by Tweepsmap where the application shows that less than 15% of followers are located in Spain. In our opinion based on the tools provided, it is an obvious case of buying fake followers or robots, although this does not imply that it was made by the account holder, and may have been done by a third party.
3. @Juancassa Juan Cassá 33,700 C's.
Candidate of Citizens to the Mayor's Office of # Málaga. A new way of doing politics is possible: close, participative and at the service of the malagueño @CsMalaga
 

4. @pacodelatorrep Francisco de la Torre 23.301 PP

Malagueño, married and father of 4 children. Doctor agronomist engineer and sociologist. Mayor of @malaga since 2000. Only I write in this account. Málaga · mayor.malaga.eu
Time Line de twitter.com/pacodelatorrep con bastantes RT's y Favoritos: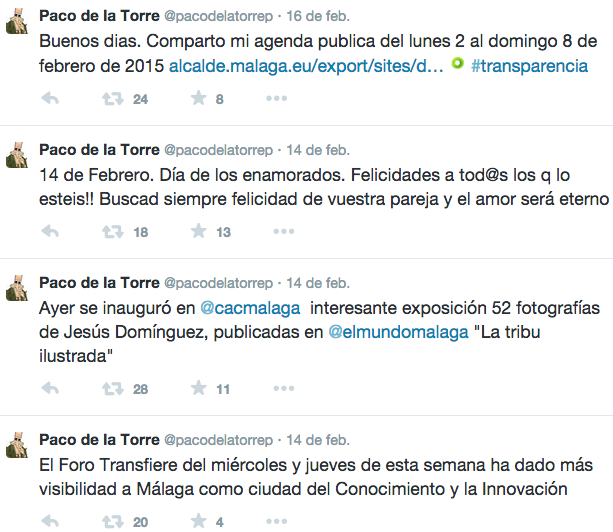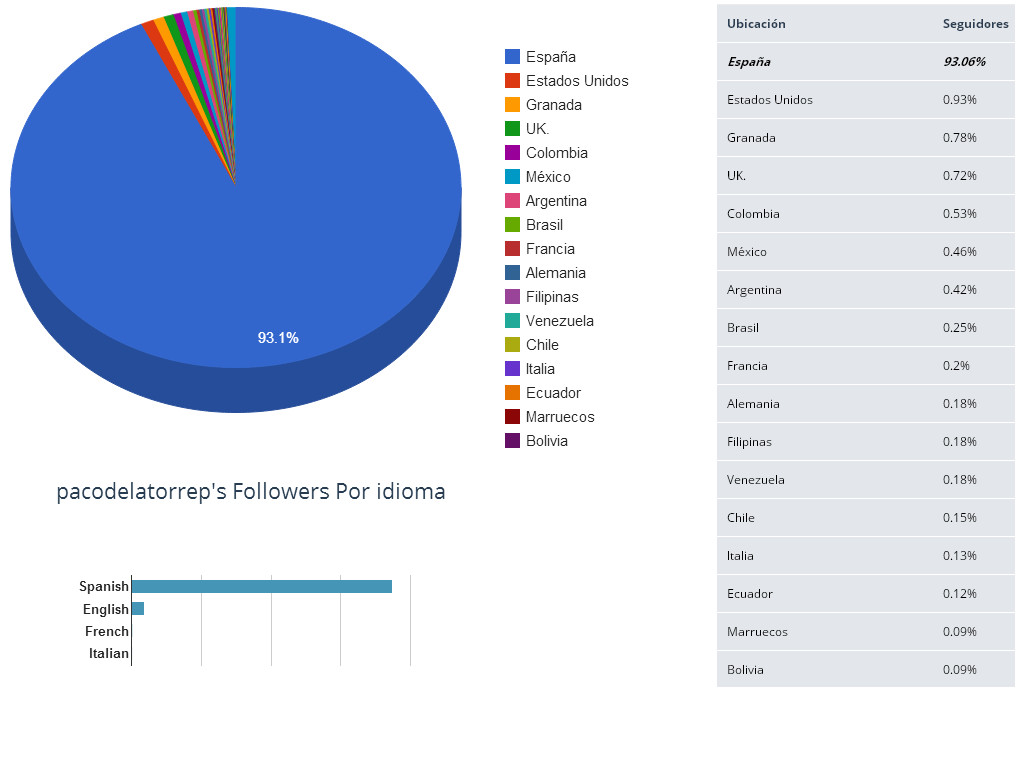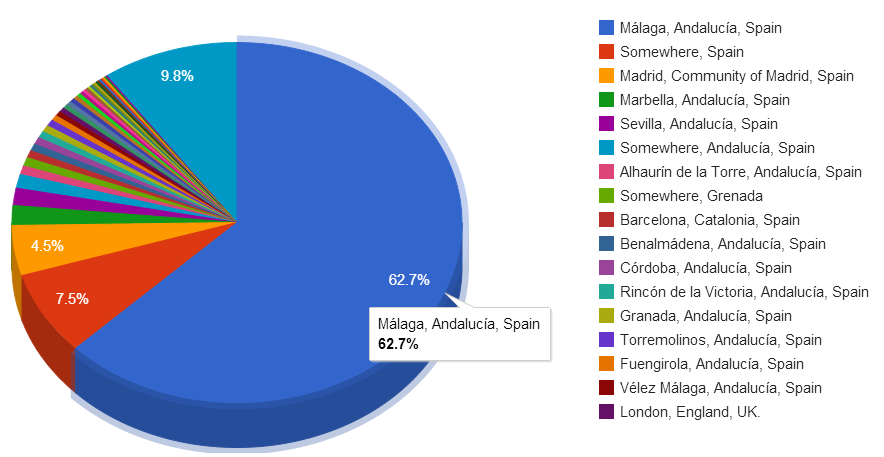 Interpretation of the data:
As a positive fact it should be noted that the interaction (RT's and mentions) of its followers is high in its time line, that is to say that those of the followers that are good do interact to a large extent with the tweets broadcast. Unlike the account of @checajavier, it is not appreciated that there is a high percentage of followers from other countries, being 93% of Spain, and most of the city of Malaga, which is also a positive data in this case . Although, there is a high percentage of followers marked as suspicious by the analysis tools, having an influence in minor klout to accounts of a similar size.
5. @mariviromero Mariví Romero 21.134 PP
Councilwoman @malaga #opengov and District @ CiudadJardinMLG. Communication 2.0@ppmalaga and @ ppandaluz.I love people. Personal profile.
 

6. @_Irene_Rivera Irene Rivera 13.535 C's.

Think of ORANGE, think differently. Ciudadana (of the world) and Spokesperson of CIUDADANOS Málaga @csmalaga
 

7. @ Maria2Gamez María Gámez Gámez 12,799 PSOE

Politics is a transitory state. the fight for justice, a permanent battle. My place in the world, # Málaga.



8. @CsMalaga Ciudadanos Málaga 11,484 C's.
Citizens like you, listening to you and working for you. Together we will achieve a better Málaga. malaga@ciudadanos-cs.org. Malaga
9. @eliasbendodo Elíasbendodo 10,051 PP
Malagueño, 40 years old, lawyer and Provincial President of @ppmalaga and President of @diputacionMLG
10. @PPMalaga 8.274 PP
Official Twitter of the PP of Málaga
11. @sandraextrem Sandra Extremera 7.402 PP
31 years. BA in Human Resources. Dip Gestión y Admón Púb. Technical Sup. PRL. Councilor @pptorrox Coordinator of the Axarquía @ppmalaga
12. @ PSOEmalaga PSOE of Málaga 6,194 PSOE
Málaga, Andalucía psoemalaga.es Twitter of the PSOE de Málaga
13. @podemosmalaga We can Málaga 6.130 We can
Moving tab and converting indignation into political change. Because Junt @ s WE CAN!
14. @IUMalaga IU Malaga 5,670 IU
Izquierda Unida Los Verdes - Call for Andalusia. Malaga
15. @JATorresMora José Andrés Torres Mora 5.167 PSOE
I was born on January 1, 1960. Professor of Sociology in the Complutense. At present I am a socialist deputy for Malaga in the Congress. Spain jatorresmora.wordpress.com
16. @PodemosMlgOeste We can Malaga West 4,763 We can
Círculo PODEMOS in Málaga that encompasses the district of Carretera de Cádiz. We are fighters
17. @antoniamorillas Antonia Morillas 4.636 IU
Councilor of the United Left in the City Council of Malaga and spokesperson for the provincial group in the Provincial Council. A tool at the service of citizens.
18. @maherediadiaz Miguel Ángel Heredia 4,138 PSOE
General Secretary of the PSOE of Málaga.Diputado.General Secretary of the Socialist Group in Cortes Generales.Coordinator of the Interparliamentary of the PSOE d Andalucía.
19. @NNGGMalaga NNGG Malaga 4.060 PP
Welcome to the official profile of New Generations of Malaga. President @ Luis_Verde. @PPMalaga

20. @EstefaniaPalop Estefania M Palop 4.019 PSOE
Training Secretary @PSOE Coordinator Andalusian Institute for Women, Málaga. Social worker. Malaga, Spain)
21. @manmalaga Manolo García 3,854 PSOE
Socialist from Malaga District Cruz de Humilladero. My treasures are my daughters, my wife and my friends. Secretary of Culture PSOE Málaga and Lawyer. Personal profile.
22. @ jacastro1974 José Antonio Castro 3787 IU
Coordinator of @IUMalaga and spokesperson of @IUAndalucia in the Andalusian Parliament. Málaga · iuandalucia.org
23. @silperezplaza Silvia Pérez Plaza 3,492 PP
Secretary of Electoral Action 2.0 PP Málaga. Freedom of expression must never protect against slander or insult.

24. @jotaatq José Ramón Carmona 3,310 PP
political scientist, political marketing. Deputy Secretary Municipal PP Malaga. Councilman Town Hall Ayto Antequera. I love my people, my land and the Spanish indie music

25. @margadcm Marga 3.264 PP
General Secretary of @ppmalaga, torremolinos of birth and heart. President of the Commonwealth of the Costa del Sol. Spanish hopeful

26. @martaolea Marta Olea 3.195 PP
Journalist. Dircom de @diputacionMLG. I coordinate the communication of @ ppmalaga. Marine animal / PR consultant. Lone sailor

27. @pepebernal Pepe Bernal 2.932 PSOE
Spokesman of the PSOE in Marbella, Andalusian parliamentarian.
28. @oblader Fran Oblare 2.918 PP
Vice President of the Diputacion de Malaga and Deputy Secretary General of the PP of Malaga but mostly a pedestrian.

29. @ KikeMlaga Kike málaga 2.886 PP
Passion for geology.My mountains tell me everything.Secrt.Electoral District 11 PP Málaga
30. @Francissalado Francisco Salado 2.731 PP
Degree in Law. Married and with three kids. Mayor of Rincon de la Victoria, Spokesperson of the PP in the Diputación de Málaga. Working for a City 10.

31. @victorgf87 Victor González 2,427 PSOE
Socialist in tireless struggle for equal freedom. S ° of Organization JSA-Vélez. S ° of Municipal Policy PSOE Vélez-M. S ° of Participation of the PSOE-A Málaga.
32. @CQPMalaga ClaroQPodemosMalaga 2.412 We can
The Claro Que Podemos team for the city of Málaga
33. @angeluisgonza Ángel Luis Gonzalez 2,167 PP
National Deputy of the PP for Malaga and Councilor of the Municipality of Antequera
34. @Salva_Escudero Salva Escudero 2.138 PP
Communication, Networks and Image Manager @pptorrox. Entrepreneur since always and passionate about photography and communication. The Morche and Torre d Benagalbón

35. @CarlitosBarran Carlos Barranquero 2,127 PSOE
World citizen. Sº General of JSA Vélez-Málaga, Sº of Municipal Policy of JSA-Málaga and Sº Polt. Social of the PSOE Vélez M. Biology student. 28
36. @ Sorayagm1411 Soraya García Mesa 2,020 PSOE
Admtva / Sec. Gral. Psoe and Spokesman Ayto. Benaoján / Coord. Inst. Andaluz Youth Malaga / Committee DTO PSOEA / Sec. Rural Development CEP Psoe Málaga
37. @ZorrillaEduardo Eduardo Zorrilla 2.011 IU
Málaga 1968. Lawyer from 1992-2011. Local Coordinator of IU Málaga since 2008.At present, councilor and Spokesperson of IZQUIERDA UNIDA in the City Council of Málaga
38. @UPyDMalaga UPyD Málaga Capital 1,944 UPYD
Official Website of the Local Council of UPyD in Málaga Capital. We will keep you informed of all our activities.
39. @vallejo_kiko Kiko Vallejo 1.751 We can
Member of the Citizen Council of Podemos in Malaga - Of course we can
40. @noelialosada Noelia Losada 1.616 UPYD
Head of Organization of the Local Council of UPyD Málaga. Lawyer in practice.
41. @ PSOEdipmlg PSOE Diputación 1,584 PSOE
Profile of the Socialist Group in the Diputación de Málaga
42. @PPTeatinos PPTeatinos 1,504 PP
This is the twitter of the Popular Party of District 11 Teatinos-Universidad (Málaga)

43. @PPFuengirola PP Fuengirola 1,486 PP
PP account of Fuengirola, to discuss the news of our city, Malaga, Andalusia and Spain.
44. @juangilpodemos Juan A. Gil 1,462 We can
Economist and social activist. Elected member of the Citizen Council of Málaga for the list @CQPMalaga. Malaga
45. @marmoleig Manuel Marmolejo 1,445 PP
Manager and Spokesperson @cpbmalaga Graduate in Economics and Business Sciences from the UMA. MBA by ESESA. ADIS San Telmo. Deputy Secretary PP Málaga
46. ​​@p_ibar Pedro Fernández Ibar 1,443 IU
Councilman of IU in Rincon de la Victoria, Provincial Deputy of Malaga and father of two fabulous children.
47. @jjbernalortiz JJ Bernal 1.431 PP
Malagueño, 39 years old, Law Degree from the UMA. Provincial Deputy of Culture and Sports; Organizing Coordinator of PP Málaga
48. @ppdiputacionmlg ppdiputacionmlg 1427 PP
Group channel @ppmalaga in @ diputacionMLG
49. @AlvaroIURonda Álvaro Carreño 1,413 IU
Geographer. Consumerist Candidate for the Mayoralty of Ronda. Coord. IU County Serrania de Ronda. Secretariat of Programs and Elaboration @ IUMalaga. Ronda, Malaga
50. @Pilar_Serrano_ Pilar Serrano Boiga 1,366 PSOE
Senator for Malaga since November 20, 2011. President of the PSOE of Benalmádena. Deputy Secretary General of the PSOE Malaga.
51. @MarianoRuizA Mariano Ruiz Araujo 1,337 PSOE
Economist. Postgraduate in Teaching and Master in Sociology. SG of the PSOE of Málaga Este (@psoepalo). Rolero, cinephile and avid reader. Dreamer and vindictive.
52. @psoevelezmalaga PSOE Vélez-Málaga 1,319 PSOE
Socialist Association of Vélez-Málaga. Vélez-Málaga · psoevelezmalaga.es
53. @Anytainthesky Ana Almeda 1.287 We can
The impossible is possible today. Building with Podemos Málaga Oeste
54. @NoeSuarez_ Noelia Suárez Gómez 1,279 PSOE
Lda. In Law. Councilor PSOE Ayto Cartama, General Secretary JSA Málaga Cártama
55. @psoerincon PSOE RINCÓN DE LA VICTORIA 1,248 PSOE
Municipal Association of the PSOE-A of Rincon de la Victoria (Malaga) Rincon de la Victoria, Malaga · rincondelavictoria.psoe.es
56. @OscarMedinaPP Oscar Medina Spain 1,235 PP
Lawyer, married and father of three children. President of the Popular Party of Torrox, of the Commonwealth of Costa del Sol Axarquia and Axaragua.
57. @ppvelezmalaga PP Vélez Málaga 1,173 PP
58. @pptorrox PP Torrox1.158 PP
Official Twitter of the Popular Party and New Generations of Torrox - pptorrox@gmail.com
59. @marmartinrojo María del Mar Martín 1,140 PP
Malagueña, economist and diploma in Tourism. Councilor for Economy, Finance and Personnel of the City of Malaga. PP Andalusia Economy Coordinator
60. @JBSalado Juan Bautista Salado 1.135 PP
Archaeologist medievalist, member of @ PPMalaga and @PPRinconV and some other things.
61. @MarioCortesC MarioCortes 1.092 PP
First Deputy Mayor and Spokesman Grupo PP @malaga and Councilor of NNTT and Innovation #malagavalley
62. @ PodemosVelezTor Podemos Vélez-Torre 1.066 We can
Official Twitter of the Círculo Podemos of the municipality of Vélez-Málaga. Velez Malaga. sea ​​Tower
63. @CristoFdez cristo fdez paez 1,029 PSOE
Secretary of Organization of the PSOE of Malaga Fuente de Piedra (Málaga)
64. @PsoeCjardin PSOE Ciudad Jardín 1,027 PSOE
Socialist Group City Garden district nº3, Málaga. Ciudad Jardin-Málaga · psoeciudadjardin.com
65. @Merino_Cris Merinilla 1,019 PSOE
Diploma in Primary Education, youth technique and Secretary of Equality Psoe Ciudad Jardín, Málaga.
66. @ manuteo1983 Manuel López Mateos 1.003 We can
Hopeful pessimist. Member of the Citizen Council of Podemos in Malaga.
67. @semagonzalez Sema González 1.001 PSOE
29 years. Degree in History. Candidate and spokesman of the PSOE in the City Council of Sierra de Yeguas (Málaga)
68. @ PodemosAlgarrob Podemos Algarrobo 997 We can
Círculo de Podemos in Algarrobo, Málaga. Join us and let's make policies through people and for the benefit of people.
69. @PPaytoMalaga PPaytoMalaga 996 PP
Official Twitter of the @PPMalaga Group in @ malaga
70. @pedrobosquet Pedro Bosquet 974 PP
Lawyer. Currently Director of Education and Youth of @ diputacionMLG. Member of @ PPMalaga. #freedom
71. @miguelangelsd Miguel Ángel Sánchez 967 IU
English teacher. IU Candidate for the Mayor of Vélez-Málaga. Responsible for the provincial organization of @iumalaga and local coordinator of @iuvelezmalaga. MAR .. Vélez-Málaga
72. @ podemos10malaga We can10malaga 939 We can
Circle we can in Malaga located in the 10th district
73. @PPChurriana PPChurriana 916 PP
Channel twitter of the 8th district of Málaga
74. @a_nebreda Ana Pérez Nebreda 909 PSOE
Genaral Secretary PSOE-A Humilladero. Spokesperson Grupo MUnicipal Socialista Ayuntamiento S.Educación CEP Málaga I can not continue, I WILL FOLLOW
75. @Paralcambio Popular Movement 876 PP
We invite you to participate in the National Convention of the PP What Spain Needs from 6 to 8 October in Malaga
76. @danigalpe Daniel Galán 816 UPYD
Coordinator of UPyD in Málaga-Capital. Notary Officer. Objective in Politics; Freedom and Justice
77. @FranGranado Fran Granado 797 UPYD
1992. Degree student in Mechanical Engineering at the EPS of Málaga. I love my city Member of the Local Council of UPyD in Malaga.
78. @macmanzana Pedro Javier Gómez 791 UPYD
Responsible for Events at the Local Council of Malaga of UPyD. Málaga (Spain)
79. @AvelinoPP Avelino Barrionuevo 771 PP
Personal profile. Malagueño, 44 ​​years old, Married with 3 children, Ldo in Law, Attorney of the Courts, Senator of the PP, for the Province of Malaga.
80. @ DIEGO_PEREZR Diego Pérez 745 PSOE
Secretary Organization JSA-Malaga, Secretary Organization PSOE-Campillos, SG JSA-Campillos.Humildad, Commitment and Work. Always positive
81. @EvaMFdezPerez Eva Fernández Pérez 729 IU
Councilwoman of IU in Vélez-Málaga, graduated in Physical Education, Black Belt of Taekwondo. I love sports and go out to demonstrate against the cuts of Rajoy. Vélez-Málaga
82. @PPCiudadjardin PP City Garden 709 PP
Official Twitter of the Popular Party of # Ciudadjardin, District 3 # PrioridadAndalucia # JuanmaSI # YoConJuanma @juanma_moreno
83. @ PodemosPizarra We Can Blackboard 686 We Can
Círculo Podemos Pizarra (Malaga)
84. @ PSOE_sanpedro PSOE San Pedro 686 PSOE
Twitter of the PSOE San Pedro Alcántara. We work for the equality, dignity and well-being of all the neighbors.
85. @Jmorlllo Jose M. Morillo 669 We can
Member of the Citizen Council of Podemos Málaga.
86. @pedrojavierlg pedro j. Lopez 661 PP
Lawyer. Public Contracting and Classification of Contractors. Secretary of the Málaga Abierta Office of @ PPMálaga.
87. @LGTBPSOEMLG LGTBI Area PSOE MLG 648 PSOE
We are the LGTBI area of ​​the @PSOEMalaga that works for the rights of lesbians, gays, transsexuals, bisexuals and intersexuals. Lgtb@psoemalaga.es
88. @ PodemosMLG We can Málaga 625 We can
It is time for the voice of the people to be heard, among all of us we can. The 25M 1,200,000 people launched a message of change. But it is only the beginning.
89. @ PodMlgDistrito4 Pod Mlg Dstrito 4 618 We can
Profile of the Circle We can Malaga District 4 (Nueva Málaga - Bailen - Miraflores).
90. @PPMalagaEste PPMalagaEste 593 PP
Working team of @ppmalaga of District 2-East of @Malaga
91. @carlos_basabe Carlos Rubio Basabe 593 PP
Melillense by birth, Madrid from training, Malaga and Marbella by decision. Currently at @ Ayto_Marbella @PPMalaga
92. @PA_MALAGA Andalusian Andalusians 589 PA
ANDALUCIAN PARTY OF MALAGA.
93. @PSOEAlhTorre PSOE Alhaurín de laTorre 574 PSOE
Official Twitter of the PSOE of Alhaurín de la Torre (Málaga). Alhaurín de la Torre, Málaga
94. @jesusmariacl Jesús María Claros 557 PP
Electronic Technician Indust., Coord.Área, Secretary provincial Agroalimentación @ ppmalaga, Vicesecretary organization, territorial and electoral @ppvelezmalaga
95. @Richie_SanPedro Ricardo López Weeden 546 PSOE
Secretary of Tourism of Psoe de Málaga, General Secretary of @PSOE_sanpedro and Councilor and Deputy Speaker of the Municipal Socialist Group of the Town Hall of Marbella. San Pedro Alcántara (Málaga)
96. @mariajoalz María josé Sánchez 476 PSOE
Lieutenant Mayor of the Town Hall of Alozaina. Provincial Deputy of Malaga. PSOE-A.
97. @ PSOEPUERTOTORRE PSOE PUERTO TORRE 467 PSOE
Socialist group Puerto de la Torre District No. 10 Malaga Official Twiter
98. @RubenViruel Rubén 462 PSOE
Teacher. Socialist. S. PSOE Organization of Campanillas (Málaga)
99. @susana_radio Susana Radio 393 PSOE
General Director of Telecommunications and Information Society, Junta de Andalucía. @PSOEmalaga Marbella, Málaga
100. @PSOEMLGCENTRO PSOE MÁLAGA CENTRO 392 PSOE
malagacentro.psoe.es
101. @JovenesIUMalaga Youth IU Málaga 382 IU
Youth Area of ​​IULV-CA in the province of Malaga. We are future, we are Popular Power. areajuventud.iumalaga@gmail.com
102. @ alonsotorres77 alonso torres pujada 361 PSOE
General Secretary of the Local Association of the PSOE-A de Yunquera (Málaga) Spokesperson of the Socialist Group in the City Council of Yunque
103. @psoealmargen PSOE Almargen 358 PSOE
Local grouping of Almargen (Málaga). Other accounts votes, we count people. We care about YOU. THE RED BLOOD AND THE HEART TO THE LEFT.
104. @inma_coin Inma Agüera Aguilar 354 PSOE
General Secretary of the PSOE-A de Coín. Spokesman of the Municipal Socialist Group in the City Council of Coín. Secretary of Economy and Employment in the CEP of Malaga.
105. @iuvelezmalaga IU Vélez-Málaga 339 IU
Izquierda Unida Los Verdes - Call for Andalusia. Vélez-Málaga
106. @ Antonio Antonio Dominguez 331 IU
Mayor of Casabermeja (Málaga) by IU-CA. I am a sports doctor and physiotherapist, although now I am fully dedicated to my political work
107. @ Torrox2015PP Torrox 2015 PP 287 PP
Torrox TorroxCosta ElMorche
108. @FernandoUMA Fernando Heredia 266 IU
Facultad de Arch., Libraries and Museums. Lcdo. Philosophy and Literature (History Contemp.). Malaga University. Board Member of IU District District Teatinos, Málaga
109. @ PodemosMalagaD9 PodemosMálagaDistri9 194 We can
Circle We can of the district 9 of Malaga that includes Campanillas, Santa Rosalía and Maqueda.
110. @Cs_Malaga I Vote Citizens 184 C's.
111. @Ciudadan_Malaga Ciudadanos Málaga 46 C's.
Because Spain will be what the Spaniards want.
See article: prodigia.com/blog-marketing-online/incumplen-las-religiones-el-8o-mandamiento-en-twitter-no-mentiras
Repercussion in press:
http://sevilla.abc.es/andalucia/malaga/20150228/sevi-alcalde-malaga-cabeza-seguidores-201502271823.html 

http://www.malagahoy.es/malaga/trampas-politicos-Twitter_0_893910893.html